that is forming among southeast Asian nations and other countries in the region, including China and India.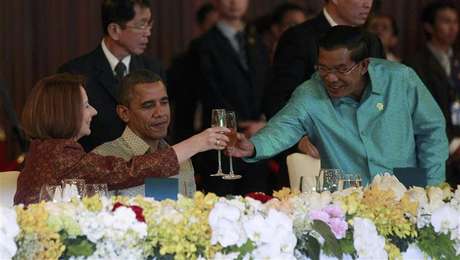 Generally, that arrangement is expected to be less ambitious than the U.S.-led partnership and there is some concern that if the Washington's demands are too stringent, countries may lose interest in the TPP in favor of the RCEP.
Four members of ASEAN are part of the Trans-Pacific Partnership - Singapore, Brunei, Malaysia and Vietnam.
For its part, the Regional Comprehensive Economic Partnership includes Japan, South Korea, Australia, New Zealand, and the ten ASEAN members - but not the United States.
"ASEAN is the United States' fourth largest export market and fifth largest trade partner," the White House said in a statement. "ASEAN's continued rapid economic development creates opportunities for U.S. exports."
The United States also wants to broaden the reach of the Trans-Pacific Partnership to include ASEAN countries that are not part of the 21-economy Asia Pacific Economic Cooperation forum. These are Cambodia, Laos, and Myanmar.
Under the Expanded Economic Engagement initiative, participating countries will negotiate simplified customs procedures, and common investor protection and business conduct principles, the White House said.
ASEAN members are Brunei, Cambodia, Indonesia, Laos, Malaysia, Myanmar, the Philippines, Singapore, Thailand, and Vietnam.
(Reporting by Mark Felsenthal; editing by Christopher Wilson)
Reuters - Reuters content is the intellectual property of Thomson Reuters or its third party content providers. Any copying, republication or redistribution of Reuters content, including by framing or similar means, is expressly prohibited without the prior written consent of Thomson Reuters. All rights reserved.