New England faced it third straight weekend of storms that will dump a messy, extended mix of wet snow and freezing rain across the region, meteorologists said Saturday.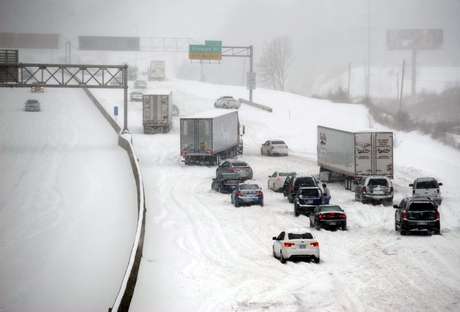 Meanwhile another storm in the West will roll out of the Rocky Mountains this weekend and could create blizzard conditions in Colorado, according to a National Weather Service advisory.
Snow blanketed much of the Midwest earlier this week, with more than a foot in Kansas on Thursday, forcing airports to cancel hundreds of flights and leaving motorists stranded on highways.
Starting on Saturday, New England's coast from northern Connecticut to southern Maine was expected to be pelted with a mix of snow and rain , according to a National Weather Service advisory, while inland areas could see significant snow accumulations.
Wet snow and freezing rain was expected Saturday afternoon through Sunday evening in southern New Hampshire, northern Rhode Island and much of Massachusetts, including the Boston metropolitan area.
Up to a foot of snow was possible in parts of central Massachusetts, National Weather Service meteorologist John Foley said. From 2 to 5 inches of snow may fall in Boston.
The heaviest snowfall was expected Saturday night through Sunday morning, with 1 to 2 inches per hour possible, the weather service said.
Steve Scardino, a software sales executive and lifelong New Englander from Hopkinton, Massachusetts said he wondered what all the fuss was about.
"Look, it's winter, it's New England, it snows. Happens every time!" he said, laughing.
The storm may bring sleet and freezing rain to the Appalachians and mid-Atlantic states, with thunderstorms expected in the Southeast, the weather service said. It likely will dump rain from New York City to Philadelphia, it said.
The storm barreled eastward for the weekend after pummeling the Midwest. In Kansas City, Missouri, Mayor Sly James said about 60 buses were stuck on snowbound streets on Friday, and even tow trucks were immobilized.
"It's still an ongoing process to get people off the roads," he told CNN.
SNOWY KANSAS
Kansas bore the brunt of the bad weather on Thursday, with up to 15 inches of snow in some parts of the state, according to the National Weather Service.
A closed 200-mile (323-km) stretch of Interstate 70 in central Kansas was strewn with cars stuck in snow.
National Guard troops riding in Humvees were dispatched to look for stranded motorists along the interstate and other highways, said Sharon Watson, a spokeswoman for Kansas emergency management services.
The storm triggered severe thunderstorms from eastern Texas to Georgia.
Missouri Governor Jay Nixon and Kansas Governor Sam Brownback declared states of emergency because of hazardous travel and possible power outages..
In Nebraska, a 19-year-old woman was killed in a two-car accident on Wednesday on Interstate 80 near Giltner. The Nebraska State Patrol said weather was a factor.
An 18-year-old man died in Oklahoma when his vehicle slid into a tractor-trailer on a slushy state highway, the state's highway patrol said.
Drought-stricken farmers in the Great Plains, one of the world's largest wheat-growing areas, welcomed the moisture, although experts said more rain or snow would be needed to ensure healthy crops.
Meanwhile, in the Southeast, a "rich supply of Gulf moisture" will drive heavy rainfall from the Florida Panhandle east to the Carolinas on Saturday, the National Weather Service advisory said.
Reuters - Reuters content is the intellectual property of Thomson Reuters or its third party content providers. Any copying, republication or redistribution of Reuters content, including by framing or similar means, is expressly prohibited without the prior written consent of Thomson Reuters. All rights reserved.