Sudan's President Omar Hassan al-Bashir returned to Khartoum on Wednesday after undergoing surgery in Saudi Arabia, his second operation in less than a year.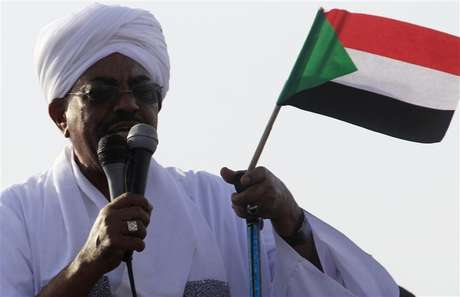 Sudanese blogs and newspapers had been speculating about Bashir's health because he has held fewer public rallies in the past few months.
The 68-year-old leader, who is wanted by the International Criminal Court on war-crimes charges, traveled to Saudi Arabia for what officials described as a "minor surgery".
Bashir appeared on television after the operation last week, saying he was in "perfect health".
On Wednesday, some 3,000 people came to Khartoum's airport to greet Bashir, who waved his walking stick in the air in greeting as he descended from the airplane.
"Allahu akbar (God is greatest)," the crowd chanted as Bashir, wearing white robe and turban, rode off in an open car. He did not address the crowd, as many had expected he would.
Bashir, who came to power in a bloodless coup in 1989, also underwent surgery on his vocal cords in Qatar in August, an official said last month.
Over a 23-year span in power, he has weathered armed rebellions, years of U.S. trade sanctions, an arrest warrant from the International Criminal Court, waves of student protests and the secession of oil-producing South Sudan last year.
Bashir is known for his fiery speeches and for dancing and waving his walking stick at public events.
(Reporting by Khalid Abdelaziz; Writing by Alexander Dziadosz; Editing by Michael Roddy)
Reuters - Reuters content is the intellectual property of Thomson Reuters or its third party content providers. Any copying, republication or redistribution of Reuters content, including by framing or similar means, is expressly prohibited without the prior written consent of Thomson Reuters. All rights reserved.