A major winter storm brought a rare white Christmas to the southern U.S. plains on Tuesday, contributing to a 21-vehicle pile-up that shut down a major highway in Oklahoma.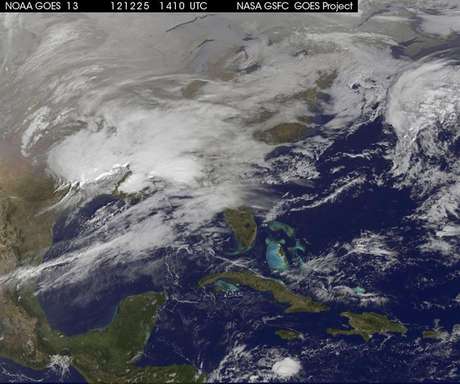 The storm system surging east from Kansas and the Texas Panhandle includes the threat of tornados and severe thunderstorms along its southern fringe, from southeast Texas to Alabama, the National Weather Service said.
The storm is expected to bring blizzard conditions and 6 to 8 inches of snow as it strengthens and moves northeast into the upper Ohio River valley through southern Missouri and Illinois, it said.
Freezing drizzle overnight led to 10 separate collisions on Interstate 40 at Oklahoma City just before 3 a.m., said Trooper Betsy Randolph, a spokeswoman for the Oklahoma Highway Patrol.
The 21-vehicle pile-up included three tractor-trailers and shut down the westbound lanes for about five hours, she said. Twelve people were taken to hospitals, and troopers are checking on the severity of their injuries.
In a rare taste of Christmas snow, Oklahoma City is forecast to get 3 to 6 inches of the white stuff on Tuesday. The city's biggest Christmas snowfall was 6.5 inches in 1914, and measurable amounts have been recorded only a handful of times on the date.
Several flights were canceled at Oklahoma City's Will Rogers World Airport on Monday ahead of the storm, but conditions on Tuesday morning were good, the airport said in a statement.
Ahead of the storm's path, parts of eastern West Virginia are under a winter storm warning. Ice accumulations of up to half an inch are expected in higher elevations, the National Weather Service said.
Reuters - Reuters content is the intellectual property of Thomson Reuters or its third party content providers. Any copying, republication or redistribution of Reuters content, including by framing or similar means, is expressly prohibited without the prior written consent of Thomson Reuters. All rights reserved.