France expects airlines to reduce flights in and out of Paris by as much as 40 percent on Sunday due to forecast snowfalls over the capital and surrounding region.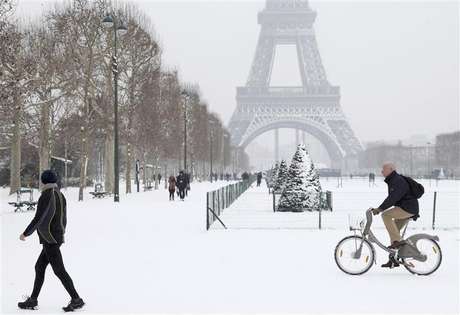 France's transport ministry said in a statement airlines had been asked to cut flight services by that amount at the two main airports on the Paris outskirts, Charles de Gaulle to the north and Orly to the south.
Snow, a rarity in the heart of the world's most popular tourist city, started falling on Friday night as a winter cold snap swept many parts of Europe. Forecasters predicted another fall in much of northern France for Sunday.
The ministry advised would-be travelers to check in with their airlines for all flights from 11 p.m. ET on Saturday.
(Reporting By Brian Love; Editing by Rosalind Russell)
Reuters - Reuters content is the intellectual property of Thomson Reuters or its third party content providers. Any copying, republication or redistribution of Reuters content, including by framing or similar means, is expressly prohibited without the prior written consent of Thomson Reuters. All rights reserved.