Hundreds of well-wishers braved a damp and chilly Seattle morning to celebrate the first of 140 weddings at City Hall on Sunday, marking the first day that same-sex couples can marry in Washington state.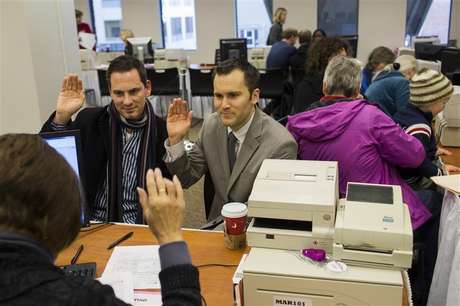 Washington, Maine and Maryland last month became the first U.S. states to extend marriage rights to same-sex couples by a popular vote, in a leap forward for gay rights.
"It means that I can use the word husband without question or explaining," said Corianton Hale, a 34-year-old graphic designer, who was one of the first to tie the knot at City Hall. He married freelance copywriter Keith Bacon, 44.
"We originally registered to come down here to get married at City Hall because we thought we'd just get in and get out," said Bacon. "It ended up being this incredible experience."
About 300 people waited outside City Hall in frigid temperatures, cheering couples as they descended the steps to street level, some throwing rice, blowing bubbles and handing flowers to the newlyweds.
The first of the ceremonies - which are scheduled to go on all day - were watched by Seattle Mayor Mike McGinn, a same-sex marriage supporter.
"What a wonderful thing to be able to support the commitment of these couples to each other and to herald the beginning of a new civil right," McGinn told Reuters inside City Hall.
Hours earlier, as midnight chimed, the first couples were married at a state court ceremony, starting with public elementary school teachers Sarah and Emily Cofer.
"We're so proud to live in this state that recognizes love and commitment," said Sarah Cofer, 31, after she and Emily Cofer, 32, uttered the words "I will" before judge Mary Yu at Seattle's King County Courthouse.
Washington's law went into effect on Thursday, when hundreds of eager couples lined up to apply for marriage licenses. The first legal same-sex weddings began on Sunday after a three-day waiting period required of all marriages expired.
King County - which includes Seattle and its suburbs - said it issued 623 marriage licenses in the three days after Thursday. Weddings are taking place across the state on Sunday.
The Cofers' union was the state's first same-sex wedding. Cameras clicked, observers clapped and their 9-month-old daughter Carter - born to one of the pair and adopted by the other - cried.
The couple said they would head home and put Carter to bed.
They were followed by 11 other couples who took their vows at 30-minute intervals through the night in Yu's 9th-floor courtroom decorated with poinsettia.
Boxes of tissues were on hand for tearful guests.
OPINION SHIFT
Thirty-one U.S. states have passed constitutional amendments banning same-sex marriage. But public opinion has been shifting in favor of allowing same-sex marriages, already made legal in six states and the District of Columbia by lawmakers or courts, although not previously via a popular vote.
A Pew Research Center survey from October found 49 percent of Americans favored allowing gay marriage and 40 percent opposed. In May, President Barack Obama became the first U.S. president to say same-sex couples should be able to wed.
As gays and lesbians prepared for their nuptials in Washington state, the U.S. Supreme Court stepped into the fray over gay marriage on Friday by agreeing to review two challenges to federal and state laws that define marriage as between a man and a woman.
The high court agreed to review a federal law that denies married same-sex couples federal benefits that heterosexual couples receive, such as in taxes and immigration. It also took up a challenge to California's voter-approved gay marriage ban.
For same-sex couples now swapping vows in Washington state, the path to legalization has been a rocky one. The state's Democratic-controlled legislature passed a bill to legalize gay marriage in February, and Democratic Governor Christine Gregoire signed it into law.
But opponents gathered enough signatures to temporarily block the measure from taking effect and force the issue onto the state ballot. Voters, by 54 percent to 46 percent, ultimately approved gay marriage at the polls in November.