Russia will lease eight jets worth $650 million to its Cold War- era ally Cuba and will partially write off the country's multi-billion-dollar, Soviet-era debt under agreements signed during Prime Minister Dmitry Medvedev's visit to Havana on Thursday.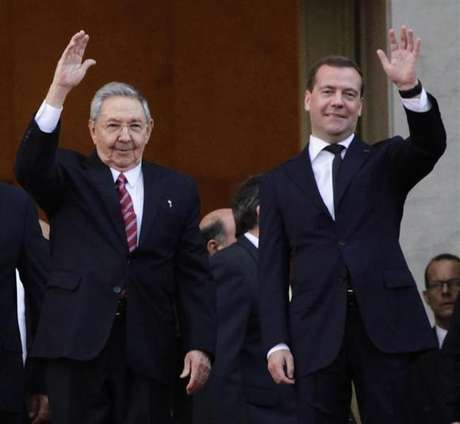 Moscow will write off part of the $30 billion debt and will offer a 10-year refinancing plan for the remaining amount, according to the preliminary agreement, Russia's industry and trade minister Denis Manturov told reporters on the sidelines of the talks.
"There was an accumulated debt on loans allocated by the Soviet Union and we have now prepared an agreement that should undergo all the necessary procedures," he said.
Manturov said the final decision on debt settlement will be signed by the end of the year.
Russia will also lease three Ilyushin-96-400 long-haul jets, three AN-158 regional planes and two TU-204SM mid-range aircraft to Cuba under the agreements inked in the presence of Medvedev and Cuban leader Raul Castro.
Moscow will provide sovereign guarantees to a syndicate of Russian banks financing the deal, Manturov said.
Medvedev and Castro were seen chatting informally and broadly smiling during the ceremony. The Cuban leader greeted reporters in Russian.
Russia and Cuba enjoyed close relations during the Cold War between the Soviet Union and Washington.
The volume of trade between the two countries last year was roughly $200 million. Oil companies from Russia, the world's largest energy exporter, are drilling into Cuba's offshore oil deposits.
(Reporting By Alexei Anishchuk; Editing by Stacey Joyce)
Reuters - Reuters content is the intellectual property of Thomson Reuters or its third party content providers. Any copying, republication or redistribution of Reuters content, including by framing or similar means, is expressly prohibited without the prior written consent of Thomson Reuters. All rights reserved.