NBC News anchor David Gregory is being investigated by police after displaying what he said was a high-capacity gun clip on Sunday's broadcast of "Meet the Press," Washington's Metropolitan Police Department said Wednesday.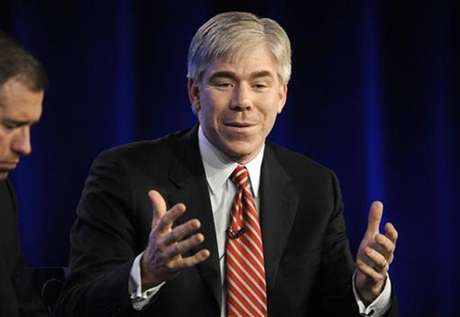 Gregory held up what appeared to be a 30-round gun magazine - which would be barred under Washington municipal code - while hosting the nationally broadcast interview with National Rifle Association Chief Executive Officer Wayne LaPierre.
"Here is a magazine for ammunition that carries 30 bullets," Gregory said as he held aloft the black cartridge, according to video posted on the network's website.
"Now isn't it possible that, if we got rid of these, if we replaced them and said 'Well, you could only have a magazine that carries five bullets or ten bullets,' isn't it just possible that we can reduce the carnage in a situation like Newtown?" Gregory asked LaPierre.
"I don't think it's what will work,'' LaPierre responded.
The network had contacted the police department prior to Sunday's broadcast "inquiring if they could use a high capacity magazine for the segment," police spokesman Araz Alali said on Wednesday.
"NBC was informed that possession of a high-capacity magazine was not permissible and their request was denied."
Alali, the police spokesman, declined to elaborate on the investigation into NBC.
Washington's municipal code prohibits possession, sale or transfer of "any large capacity ammunition feeding device, regardless of whether the device is attached to a firearm."
The maximum penalty for conviction on such a charge is a $1,000 fine and one year in prison.
NBC spokeswoman Erika Masonhall, contacted by email, said the network had no comment on the investigation.
After the broadcast, which originated in Washington, a number of bloggers and websites questioned Gregory's actions and the legality of the gun clip.
(Reporting by Chris Francescani and Paul Eckert; Editing by Paul Thomasch, Andrew Hay and Gunna Dickson)
Reuters - Reuters content is the intellectual property of Thomson Reuters or its third party content providers. Any copying, republication or redistribution of Reuters content, including by framing or similar means, is expressly prohibited without the prior written consent of Thomson Reuters. All rights reserved.