A Gulf of Mexico offshore energy platform operated by Houston-based Black Elk Energy Offshore Operations LLC burst into flames on Friday, leaving at least two people missing, U.S. and Louisiana officials said.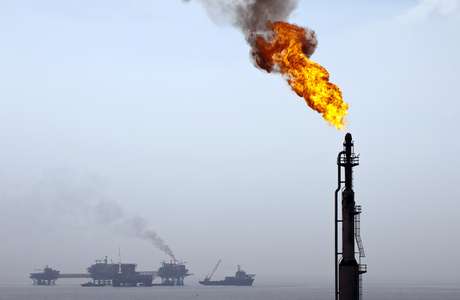 The platform fire has been extinguished, Black Elk said. The U.S. Coast Guard said four people have been evacuated from the rig, and search and rescue helicopters were scouring the area, located around 17 miles south of Grand Isle, Louisiana.
The platform was not producing oil or gas when the fire started, a Coast Guard official told local media.
Black Elk spokeswoman Leslie Hoffman said the company was gathering information about the fire and would release a statement. The Coast Guard said it was investigating reports of an oil sheen nearby.
An official from Jefferson Parish, Louisiana told Reuters there were reports of two deaths and at least two people missing from the platform. No fatalities have been confirmed, the Coast Guard said.
At least six people had been aboard the platform when the fire occurred, a Coast Guard official told CNN.
Another Coast Guard official, Peter Gautier, told Louisiana media WWLTV.com that the platform fire did not appear to pose a threat of major environmental disaster and the rig was not actively producing when the blaze started.
The latest potentially deadly offshore incident comes a day after oil giant BP Plc reached an agreement to pay record penalties of $4.5 billion for its role in the 2010 Deepwater Horizon disaster, which spewed millions of barrels of oil into the Gulf of Mexico and killed 11 workers.
Black Elk's website says the firm recently embarked on a major drilling expansion program in the Gulf of Mexico, in which it planned to drill some 23 wells beginning this month.
Black Elk Energy was investigated as recently as August by the federal Bureau of Ocean Energy Management Regulation and Enforcement (BOEMRE) for an incident in which two employees were dropped 60 feet into Gulf of Mexico waters due to a crane malfunction. No injuries were reported.
SEC filings also show that Black Elk paid a $300,000 civil fine in September, related to a site inspection in 2011 of one of its facilities that revealed it was not complying with regulations. BOEMRE data also shows a small fire occurred at a Black Elk platform in February of 2011 in the Gulf of Mexico, but was quickly contained.
The company's chief executive, John Hoffman, formerly worked for BP Amoco, according to a report earlier this year in the Houston Business Journal. Hoffman founded Black Elk in 2007, the report said.