President Barack Obama, marking a poignant moment in his push to curb gun violence, awarded presidential medals posthumously on Friday to six educators killed in the Newtown school massacre, saying they gave their lives to protect "the most innocent and helpless among us."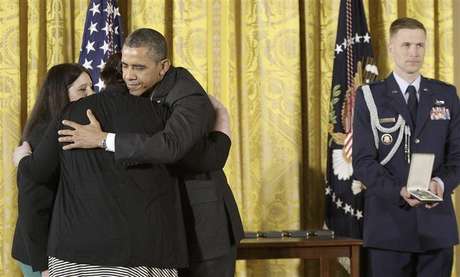 Consoling tearful family members as they stepped on stage at the White House, Obama paid homage to the four teachers and two administrators killed in the December 14 shooting rampage at Sandy Hook Elementary School in Connecticut, a tragedy that sparked nationwide calls for tighter gun control laws.
Though Obama made no mention of his gun-control efforts in the wake of the mass shooting, the solemn ceremony unfolded against the backdrop of vocal resistance from gun advocates and their supporters on Capitol Hill to any new restrictions.
As Obama handed out the Presidential Citizens Medals, the nation's second-highest civilian honor, he focused on the slain women's courage and selflessness. Twenty first-graders were also killed in the attack, which was carried out by 20-year-old Adam Lanza.
They came to school that morning with "no idea that evil was about to strike," Obama told the audience. "And when it did they could have taken shelter by themselves, they could have focused on their own safety, on their own well-being, but they didn't."
"They gave their lives to protect the precious children in their care and gave all they had for the most innocent and helpless among us. That's what we honor today."
Obama, who has called the day of the mass shooting the worst of his presidency, is moving swiftly to try to build momentum for gun control legislation. He even used his otherwise policy-heavy State of the Union address on Tuesday night to make an impassioned appeal for lawmakers to act.
But he faces an uphill battle against a powerful pro-gun lobby and a strong U.S. tradition of hunting and gun ownership. The right to bear arms is enshrined in the Second Amendment of the U.S. Constitution.
Principal Dawn Hochsprung, school psychologist Mary Sherlach and teachers Rachel D'Avino, Lauren Rousseau, Anne Marie Murphy and Victoria Soto were killed in the attack.
SPECIAL ATTENTION TO NEWTOWN FAMILIES
Obama paid tribute to the Sandy Hook educators in a ceremony that also honored a dozen other Americans in fields that included child development, gay rights, military veterans assistance, immigrant outreach and helping disabled women. They were selected from among nearly 6,000 nominations.
But he gave special attention to the Newtown victims' families, wrapping mothers and daughters in his arms as the families accepted the medals one-by-one.
Hochsprung's mother wiped away tears as she was handed the award. Hochsprung, 47, was shot dead reportedly when she sought to confront the shooter after hearing the sound of gunshots.
Sherlach's husband Bill blew a kiss toward the heavens and patted his heart as he stood on stage.
With a packed second-term agenda that includes immigration reform and climate change, Obama - who has pledged to use the full power of his office to secure tougher gun control - is seeking progress on the issue before painful memories of December's shooting fade from the public's consciousness.
His push for reinstatement of a ban on assault rifles is seen as possibly the toughest sell in a country where many Americans see gun control as an infringement of their rights.
Obama's call for criminal background checks for all gun buyers is seen as having the best chance of winning over Republicans, but that proposal is also running into stiff opposition.
The influential National Rifle Association has launched a major advertising campaign against Obama's gun control proposals and deployed its lobbyists in force on Capitol Hill.
In his State of the Union speech, Obama delivered a powerful plea for Congress to hold votes on measures to expand background checks, prevent gun trafficking, ban assault weapons and limit the size of magazines, saying lawmakers owed it to victims of gun violence,
"They deserve a vote," Obama said on Tuesday night before a nationwide television audience, calling out the names of communities scarred by massacres, Newtown, Aurora, Oak Creek, Tucson, Blacksburg. "They deserve a vote."