U.S. lawmakers are crafting a bill aimed at stopping the European Central Bank from handling business from the Iranian government, a congressional aide said on Thursday, an attempt to stop Tehran from using euros to develop its nuclear program.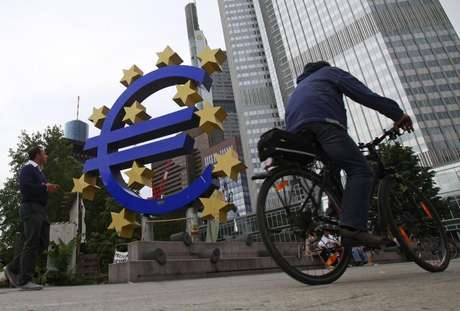 The bill, in the early stages of drafting, would target the ECB's cross-border payment system and impose U.S. economic penalties on entities that use the European Central Bank to do business with Iran's government, the aide said on condition of anonymity.
The central bank's so-called Target2 system is used to settle cross-border payments in Europe and processes around 350,000 payments daily, according to the most recent figures made available.
Although the ECB already complies with European Union sanctions against Iran, the proposed bill is aimed at pressing Europe to do more to prevent Iranian firms and banks from using the Target2 system to conduct transactions involving euros.
"The ECB ensures that no illegitimate transactions are cleared in Target2," a spokesman for the euro zone's central bank said. "But any sanctions are EU sanctions and not an ECB competence."
The ECB provision is part of a wider U.S. bill aimed at choking off funds to the Iranian government, which the West accuses of developing nuclear weapons. Tehran denies the charges.
It is unclear when the bill would be introduced or whether there would eventually be support in the U.S. Congress or by the Obama administration to enact another set of economic sanctions.
The United States and the European Union have worked mostly in tandem in imposing harsh economic sanctions against Iran, which have so far slashed the country's oil revenues, disrupted trade and weakened its currency.
ECB representatives are due in Brussels at the start of March for working discussions on various Iran sanctions issues, EU sources said, though the meetings were not specifically to discuss Target2.
Last year, U.S. lawmakers were successful in pressuring Belgium-based SWIFT electronic payment system to block Iranian transactions. SWIFT, which facilitates the bulk of global cross-border payments, disconnected designated Iranian financial firms from its messaging system after European regulators ordered the company to do so.
(Reporting by Paul Carrel in Frankfurt, Justyna Pawlak in Brussels and Rachelle Younglai in Washington. Editing by Jeremy Gaunt.)
Reuters - Reuters content is the intellectual property of Thomson Reuters or its third party content providers. Any copying, republication or redistribution of Reuters content, including by framing or similar means, is expressly prohibited without the prior written consent of Thomson Reuters. All rights reserved.