Suspected Hezbollah operative Ali Mussa Daqduq was freed by Iraqi authorities and flew to Lebanon on Friday after an Iraqi court acquitted him of involvement in the killing of five U.S. soldiers, his lawyer said.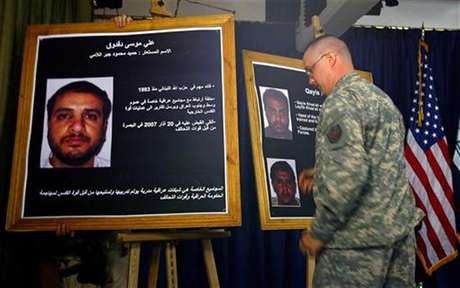 The move was likely to anger the United States, which handed Daqduq over to Iraqi custody last December after failing to convince Baghdad to extradite him over his role in a 2007 kidnapping that ended in the killing of the soldiers.
"There was no reason for his detention. Last night the decision was made to release him. He is out now and arrived in Beirut two hours ago," lawyer Abdulalmehdi al-Mutiri told Reuters by phone. "There are no charges against him in Iraq. His detention was political, not legal."
Earlier this year, U.S. Defense Secretary Leon Panetta told Reuters he had received assurances from Iraq it would not release Daqduq, even though an Iraqi court had cleared him of the charges.
The fate of Daqduq became a source of tension between Baghdad and Washington last year as the U.S. military prepared to withdraw from Iraq.
Daqduq was captured in March 2007 and initially said he was a deaf mute. U.S. forces accused him of being a surrogate for Iran's elite Quds force operatives and say he joined the Lebanese Shi'ite militant group Hezbollah in 1983.
(Reporting by Suadad al-Salhy; Writing by Isabel Coles; Editing by Mark Heinrich)
Reuters - Reuters content is the intellectual property of Thomson Reuters or its third party content providers. Any copying, republication or redistribution of Reuters content, including by framing or similar means, is expressly prohibited without the prior written consent of Thomson Reuters. All rights reserved.