Two big forest fires raging in the border area between France and northern Catalonia in Spain have killed a fourth person, the authorities said on Monday, as erratic winds hindered efforts to control the blaze.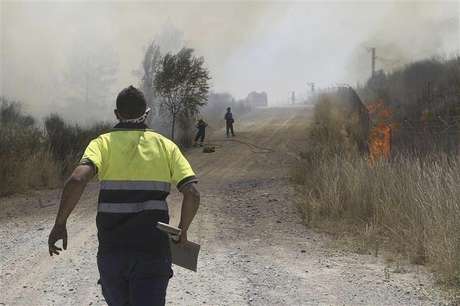 The fires broke out on Sunday, affecting Spain's Costa Brava, one of the country's most popular beach destinations, as well as major motorways used by holidaymakers driving to and from southern France. Ash from the blaze has also begun to reach the Barcelona area.
Wildfires have broken out in other parts of southern Europe in the past few days.
On Monday, Croatia evacuated tourists near a coastal village and thick smoke forced the closure of the main coastal road linking the northern and central Adriatic. Last week, fire swept through forests near Athens, and villagers had to be evacuated from their homes on the Portuguese archipelago of Madeira.
The fires in the Spanish province of Girona, Catalonia, are the area's most devastating in well over 20 years, the local government said, and Environment Ministry data show 2012 is already the worst year for forest fires in Spain for more than a decade.
All four victims were French, the government of Catalonia and the fire service said. The fourth victim was a 64-year-old man who died of burns on Monday.
On Sunday, a father and his 15-year-old daughter died after trying to escape the flames by descending a cliffside in Portbou, a coastal town where one of the fires broke out. A man died of a heart attack further inland near La Junquera, a border town at the epicenter of the biggest blaze.
The Catalan government said at least 23 people had been injured.
TOURISTS EVACUATED
Strong winds, sometimes reaching 80 kph (50 mph), hindered efforts to keep the fires in check overnight. Although they had calmed by morning, gusts were still swirling erratically.
The fire has affected an area of 13,000 hectares inland, and burned through about 200 hectares near Portbou. Some 150,000 residents inland have been told to stay at home.
"Everything indicates that this originated from the imprudence of people, probably through cigarettes that have not been properly stubbed out and which are thrown out of windows," Artur Mas, the Catalan premier, said.
He said the winds were spreading the fire at a rate of 6-7 kph. "That's a greater speed than the rate at which a person walks, it's very fast. And on top of that the wind is very erratic," he said.
Strong winds were also fanning the blaze in Croatia, preventing the use of fire planes.
Some 150 firefighters were battling the blaze that forced tourists to abandon a camp site in the village of Selce near the resort of Crikvenica, the state rescue service DUZS said.
Some 1,400 tourists, mostly from Slovenia and Austria, were among those evacuated, state news agency Hina said, adding that the fire was also threatening several residential buildings.
Croatia's 800 km coastal line is regularly hit by forest fires during the tourist season.
Wildfires in Madeira were nearly under control and did not pose a grave risk, Portugal's civil defense service said on Monday, adding that fires that had affected the tourist region of Algarve had also been put out.
The Portuguese weather institute expects lower temperatures both in the continent and in Madeira for the rest of Monday.
Forest fires near Athens receded late on Thursday after destroying or damaging several houses and forcing residents to use garden hoses to fight the flames.
(Reporting by Iciar Reinlein, Nigel Davies, Sarah White, Daniel Alvarenga and Igor Ilic; Writing by Alison Williams; Editing by Andrew Osborn)
Reuters - Reuters content is the intellectual property of Thomson Reuters or its third party content providers. Any copying, republication or redistribution of Reuters content, including by framing or similar means, is expressly prohibited without the prior written consent of Thomson Reuters. All rights reserved.