In the summer of 2007, as storm clouds gathered over the world's financial system, then-New York Federal Reserve President Timothy Geithner allegedly informed the Bank of America and other banks about the possibility the U.S. central bank would lower one of its critical interest rates, according to a senior Fed official.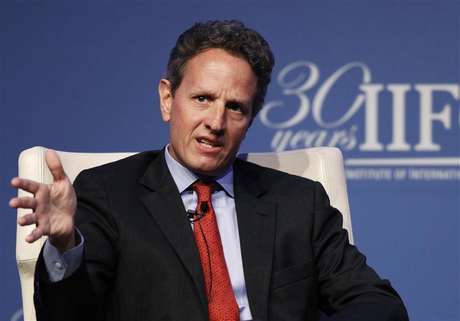 Jeffrey Lacker, the head of the Richmond Fed, originally raised the allegation during a Fed conference call in August 2007, and he stuck to his 5-year-old claim against the current U.S. treasury secretary in a statement provided to Reuters on Friday.
"From conversations I had prior to the video conference call on August 16, 2007, I was aware of discussions among a few large banks about borrowing from their discount windows to support the asset backed commercial paper market," Lacker said in the statement. "My understanding was that (New York Fed) President Geithner had discussed a reduction in the discount rate with these banks in connection with these initiatives."
According to transcripts of the call released by the Fed on Friday, Geithner at the time denied that banks knew the Fed was considering cutting the discount rate. The Fed regularly releases transcripts of its policy meetings with a five-year lag.
"We don't have any comment beyond the transcript," said Treasury spokesman Anthony Coley. The Treasury declined to make Geithner available to comment.
Information about any planned interest rate move by the Fed is among the most sensitive as it can have a huge impact on a range of financial markets worldwide. That was particularly the case in the summer of 2007 when there were growing concerns about financial stability as a crisis that would reach fever pitch just more than a year later began to build.
Private disclosure of confidential, market-sensitive information by the central bank would be highly unusual, but it was not immediately clear if it would be illegal. It also was not clear if strict Fed internal rules governing confidential information would have been breached, or whether any internal or external investigation was mounted. Lacker made no suggestion of wrongdoing by the banks as a result of getting hold of any information.
The central bank delivered a surprise cut in the discount rate, which governs direct loans it makes to banks, the day after the call. The action spurred a big stock market rally, with the Standard & Poor's 500 Index enjoying its best gain in 4-1/2 years.
In his statement to Reuters, Lacker did not say which banks may have been privy to the information, although in the transcript of the August 16, 2007, call he said he had discussed the matter with Bank of America's then CEO, Ken Lewis, earlier that day. The Richmond Fed supervises the Charlotte, North Carolina-based bank.
Spokesmen for the Federal Reserve Board in Washington, the New York Fed and Bank of America all declined to comment, as did Lewis.
FIRST IN SERIES OF RATE CUTS
The unusually large half-point cut in the discount rate to 5.75 percent that the Fed delivered on August 17 was the first in a long series and came just days after French bank BNP Paribas froze three investment funds that were facing heavy redemptions. A month later, the Fed would also cut the overnight federal funds rate, its primary lever to influence the economy.
During the Fed's August 16, 2007, conference call, Geithner said that banks had started to ask about borrowing from the Fed earlier in the month after the central bank had released a statement saying it stood ready to provide liquidity to credit markets.
Geithner said banks "obviously don't have any idea that we're contemplating a change in policy" - a statement that Lacker then questioned.
"Did you say that they are unaware of what we're considering or what we might be doing with the discount rate?" Lacker asked, according to the transcript.
Geithner said yes, and Lacker followed up: "I spoke with Ken Lewis, president and CEO of Bank of America, this afternoon, and he said that he appreciated what Tim Geithner was arranging by way of changes in the discount facility. So my information is different from that."
Geithner responded, "I cannot speak for Ken Lewis, but I think they have sought to see whether they could understand a little more clearly the scope of their rights and our current policy with respect to the (discount lending) window."
"The only thing I've done is to try to help them understand ... what the scope of that is," he said.
Geithner, who is stepping down from his Treasury post next Friday, was an advocate of aggressive action to stem the crisis, and the steps the central bank took are widely credited with helping to calm the financial storm. Lacker was less inclined to intervene in the markets.
(Additional reporting by Rick Rothacker in Charlotte, N.C., and Jonathan Spicer in New York; Editing by Timothy Ahmann and Peter Cooney)
Reuters - Reuters content is the intellectual property of Thomson Reuters or its third party content providers. Any copying, republication or redistribution of Reuters content, including by framing or similar means, is expressly prohibited without the prior written consent of Thomson Reuters. All rights reserved.