The European Union will consider adding Lebanon's Hezbollah movement to its list of terrorist organizations after it was implicated in a bombing in Bulgaria last year, an EU foreign affairs spokeswoman said on Wednesday.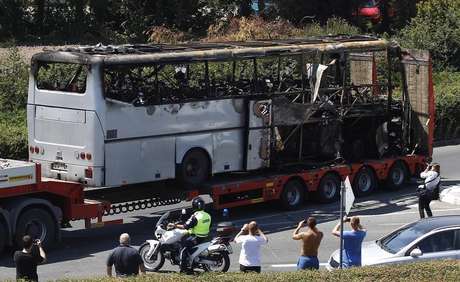 However, she said listing the group was just one of several options and said no decision had been taken.
"Currently, Hezbollah is not on the list of terrorist organizations in the EU and member states will look into several options. This is one of them but not the only one," Maja Kocijancic told reporters.
EU foreign ministers meet on February 18 for a regular gathering at which the issue could be discussed.
Bulgaria on Tuesday accused Hezbollah of carrying out a bomb attack on a bus in the Black Sea city of Burgas that killed five Israeli tourists.
The United States already lists the group as a terrorist organization and U.S. and Israeli authorities want to see the EU take a similar position.
Kocijancic said other options included EU member states taking action against Hezbollah via Europol, the European policing agency, via the courts or through other diplomatic channels, but she did not elaborate.
(Reporting by Justyna Pawlak; editing by Andrew Roche)
Reuters - Reuters content is the intellectual property of Thomson Reuters or its third party content providers. Any copying, republication or redistribution of Reuters content, including by framing or similar means, is expressly prohibited without the prior written consent of Thomson Reuters. All rights reserved.