Two pro-European political parties in the Netherlands that backed bailouts are leading in the opinion polls one week before an election dominated by the euro zone crisis and austerity measures, three surveys showed on Wednesday.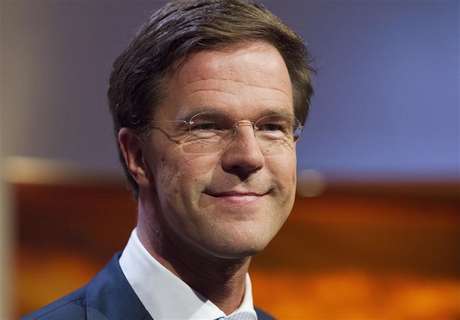 Prime Minister Mark Rutte's fiscally conservative Liberal Party would win the most seats, the new polls showed, followed closely by the Labour Party, which is pro-euro but opposes tough austerity measures.
The two parties, which have been partners in previous governments, could form a centre-right coalition with the support of just one other party such as the socially liberal D66 party, analysts said.
The Dutch election on September 12 is attracting much scrutiny abroad.
As in other countries, it has highlighted growing discontent among voters over Europe - in particular at the need for belt-tightening at home and the high cost of bailing out weaker euro zone states.
The outcome will also determine whether a fiscally conservative country that has long been regarded as a core euro zone member continues to support Germany's fight for budget discipline.
An Ipsos Synovate poll published late on Wednesday showed the gap between Rutte's Liberals and the Labour Party narrowing to just two seats, suggesting for the first time during the campaign that next week's election could turn into a close contest between the two.
The Liberals would win 34 seats in the 150-seat parliament while Labour would win 32 seats, the Ipsos Synovate poll showed.
A poll by television program Een Vandaag also showed Rutte's Liberal Party winning 34 seats, followed by Labour with 30 seats. According to a survey by polling agency Maurice de Hond, the Liberals would win 33 seats, followed by Labour with 29 seats.
All three polls showed that the hard-left Socialist Party, which until about two weeks ago was either in the lead or vying with the Liberals for the top spot, has plunged in popularity following a series of televised election debates.
Diederik Samsom, the new leader of the Labour Party, has consistently been voted the star of numerous debates held in the past two weeks.
Rutte has also performed well in the TV debates, appearing statesman-like in the face of the euro zone crisis, whereas Emile Roemer, leader of the Socialist Party, has come across as a political lightweight.
However, with many Dutch voters still undecided, analysts say that the outcome is still fluid.
The following shows parliamentary seats projected in recent polls plus the outcome of the last election in 2010.
Political party 2010 election TNS Nipo Sept 4 Een VandaagSept 5 De HondSept 5 Ipsos Synovate Sept 5 Liberal (VVD) 31 34 34 33 34 Christian Dem (CDA) 21 13 12 13 12 Democrats 66 (D66) 10 13 12 14 13 GreenLeft (GL) 10 5 4 4 4 Christian Union (CU) 5 5 7 5 6 5 party bloc total 77 70 69 69 69 Labour (PvdA) 30 26 30 29 32 Socialist (SP) 15 28 26 25 22 Freedom Party (PVV) 24 17 17 19 20 Animal Party (PvdD) 2 3 2 3 3 Reformed (SGP) 2 2 3 3 2 Others* 0 4 3 2 2 * Other parties include 50Plus, Hero Brinkman, Pirate Party
(Reporting by Sara Webb; Editing by Michael Roddy)
Reuters - Reuters content is the intellectual property of Thomson Reuters or its third party content providers. Any copying, republication or redistribution of Reuters content, including by framing or similar means, is expressly prohibited without the prior written consent of Thomson Reuters. All rights reserved.