Firefighters extinguished a blaze in a fuel storage tank at Venezuela's El Palito refinery, state oil company PDVSA said on Saturday.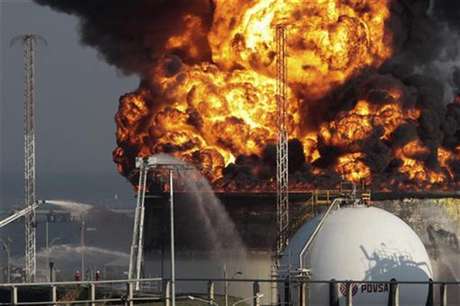 The fire was started by a lightning bolt during a storm Wednesday night, but the 146,000 barrel-per-day (bpd) El Palito facility continued operating. Two tanks were initially set alight, but the fire in one was put out within hours.
In a statement, PDVSA said the blaze in the second storage tank was completely extinguished late on Friday.
No one was hurt in Wednesday night's lightning strike.
The second refinery accident in a month has increased concerns about state oil company PDVSA's safety record and practices ahead of an October 7 presidential election.
In August, PDVSA halted almost all output at the country's biggest refinery, Amuay, for six days after a gas leak caused an explosion that killed 42 people.
PDVSA has suffered a string of accidents, outages and unplanned stoppages for maintenance across its refinery network in recent years, hurting the OPEC nation's vital fuel exports.
(Reporting by Daniel Wallis; Editing by Vicki Allen)
Reuters - Reuters content is the intellectual property of Thomson Reuters or its third party content providers. Any copying, republication or redistribution of Reuters content, including by framing or similar means, is expressly prohibited without the prior written consent of Thomson Reuters. All rights reserved.