Conservative Supreme Court justices on Wednesday signaled strong doubts about the ongoing validity of a key part of the Voting Rights Act, passed in 1965 to end a century of attempts by formerly slaveholding Southern states to block blacks from voting.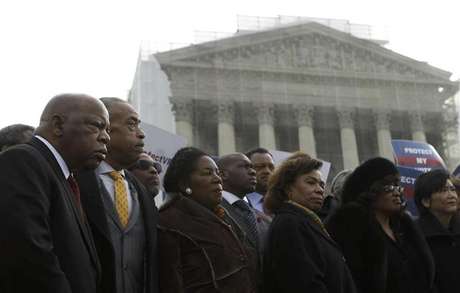 During a tense and sometimes fractious oral argument, which extended beyond the scheduled hour, the nine justices considered the claim made by officials from Alabama's Shelby County that Section 5 of the Voting Rights Act was no longer needed nearly five decades later. The county in the Deep South state had long chafed at federal oversight.
Throughout the argument, conservative and liberal justices alike asked probing, tough questions of all parties, regularly interrupting the lawyers and speaking over one another.
The bid to limit Section 5 comes amid what critics call concerted efforts by Republicans at the state level to suppress the vote of blacks and other Democratic-minded demographic groups. Earlier this month, President Barack Obama, the first black U.S. president, decried barriers to voting in America and announced a commission to address voting issues.
Section 5 enables Congress to exercise its authority under the Constitution's 15th Amendment to require some states, mainly in the South, to show that any proposed election-law change would not discriminate against minority voters.
The 15th Amendment, which gave blacks the right to vote, was adopted in 1870 - five years following the end of the Civil War, which was fought after an ultimately failed rebellion by Southern states intent upon maintaining black slavery.
Justice Anthony Kennedy, the court's swing vote on racial issues, at one point during the argument said "times change" when it comes to weighing whether the nine states in question should still be treated differently from other states.
ENFORCING VOTING RIGHTS
For the conservative justices, a repeated refrain was that if Congress wants to enforce voting rights, it should treat all states in the same manner.
Chief Justice John Roberts, for example, cited statistics that conclude the state with the biggest disparity in voter registration between whites and blacks is Massachusetts, which is not one of the covered states.
At one point, the chief justice asked the Obama administration's lawyer, Solicitor General Donald Verrilli, if it was the government's position that "citizens in the South are more racist than citizens in the North." Verrilli said that was not the government's position.
Justice Antonin Scalia, one of the other conservatives, said that the court should be skeptical of Congress' decision to reauthorize the law in 2006 because it would be politically damaging for politicians to vote against it.
He described the political phenomenon as the "perpetuation of racial entitlement" for minority voters.
The court's four liberal justices mounted a spirited defense of the law, with Justice Sonia Sotomayor a vigorous and persistent questioner throughout. She referred to Shelby County as "a county whose record is the epitome of what caused the passage of this law."
Shelby County officials brought the case after being sought out by a conservative activist, Edward Blum. The case was shepherded by longtime county attorney Frank "Butch" Ellis, a conservative who for years had protested the provision at issue.
In a ruling due by the end of June, the Supreme Court could strike down the provision as sought by Shelby County, or decide that it still passes constitutional muster. It also could avoid the constitutional issue and find that Shelby County simply did not have the legal standing to sue because, due to its history of discrimination, it would not benefit even if Congress revised its formula for deciding which states are covered.
The courtroom drama extended to interactions between the justices, with Scalia and Justice Elena Kagan, a liberal appointed by President Obama in 2010, at one point clashing.
Scalia had said the lopsided 98-0 vote in the U.S. Senate when Congress reauthorized the Voting Rights Act in 2006 was not necessarily a fact that could be cited to support the law.
Kagan, who at 52 is 24 years Scalia's junior, interrupted.
"Well, that sounds like a good argument to me, Justice Scalia," she said in reference to the support for reauthorization. "It was clear to 98 senators, including every senator from a covered state, who decided that there was a continuing need for this piece of legislation."
"Or decided that perhaps they'd better not vote against it," Scalia shot back.
Among those in the packed courtroom were congressman John Lewis, a Georgia Democrat and a prominent civil rights champion, and Cecilia Marshall, widow of Thurgood Marshall, who in 1967 became the first black member of the Supreme Court.
Outside the court, a couple of hundred demonstrators gathered in support of the law. Some carried signs saying "Protect VRA" and "Protect My Vote." There were no counter-demonstrators in sight.
(Additional reporting by Joan Biskupic, Ian Simpson and David Ingram; Editing by Howard Goller and Will Dunham)
Reuters - Reuters content is the intellectual property of Thomson Reuters or its third party content providers. Any copying, republication or redistribution of Reuters content, including by framing or similar means, is expressly prohibited without the prior written consent of Thomson Reuters. All rights reserved.