At least 14 people died and five were still missing after a ferry carrying 50 people collided with a sand barge and sank on Bangladesh's giant Meghna River on Friday, officials said on Saturday.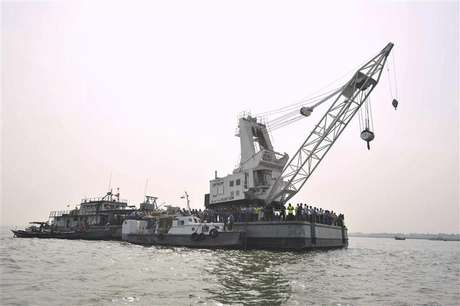 "Rescuers found 12 dead bodies inside the salvaged ferry, while two bodies were recovered yesterday," said Mohammad Saiful Hassan Badal, administrator of Munshiganj district, where the accident happened.
Six of the dead were children, aged between two and 10.
"We called off the rescue operations with five people missing," he said, adding that about half the passengers managed to swim ashore and some were rescued by local villagers.
The Meghna River is one of three rivers that forms the Ganges Delta.
Unregulated and overcrowded ferries often run in to trouble on low-lying Bangladesh's extensive network of rivers. Hundreds of people are killed in accidents every year despite government vows to crack down on unlicensed operators.
(Reporting by Ruma Paul; Editing by Michael Perry)
Reuters - Reuters content is the intellectual property of Thomson Reuters or its third party content providers. Any copying, republication or redistribution of Reuters content, including by framing or similar means, is expressly prohibited without the prior written consent of Thomson Reuters. All rights reserved.